Optimise the buying experience with self-service payment solutions!
Payments are easy with IPM France's innovative solutions!
Innovative solutions, made by IPM France, for easier payments!
A successful buying experience contributes to the success of your company and can be a tremendous driver for growth. IPM France provides innovative solutions for easier payments and an enhanced buying experience for customers. 

Bank card payments
In France, one in two payments is done with a bank card. Since the increase to €50 of the spending limit for contactless card payments, these have risen from 41% in 2019 to 62% in 2022 (source: francenum.gouv). To meet their customers' needs, IPM France provides points of sale with interactive kiosks equipped with secure contactless payment terminals 👉 See our card payment terminals! 


Mobile payments
Unlike contactless card payments, mobile payments do not have a spending limit during transactions. More and more French people are adopting this payment method: 19% of them used mobile payments in 2022, versus 17% in 2021 (source: Panorabanques). To meet the new requirements of the French population, IPM France provides points of sale with digital kiosks incorporating:
mobile payments, via such payment solutions as AliPay or WeChat.
electronic payments, particularly with the digital ticketing solution of our partner DV Ticketing, which allows SMS payment via the telecom operators' billing system.
Cash payments
According to an ECB survey, although 55% of respondents expressed a preference for payments by card, 60% of them considered it important to keep cash as a payment option. To facilitate cash payment transactions, IPM France provides digital cash management solutions: 
in lieu of or in addition to a card payment terminal, IPM France's interactive kiosks are equipped with a cash payment module 👉  See our cash payment kiosks!
a cash-payment kiosk, in standalone or connected mode to automate cash payments (coins and banknotes) 👉  Self'Pay!
Find out more about the innovative Self'Pay cash-payment kiosk 
Customers are completely autonomous with the Self'Pay automated cash-payment kiosk. The way it works is simple: 
The home screen shows the amount to be paid.
Customers insert loose change and/or banknotes into the machine.
The kiosk instantly gives change.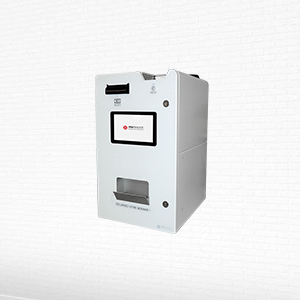 Depending on requirements, the Self'Pay cash-payment kiosk is available in "standalone" mode (controlled by an app that can be used on a touchscreen tablet) or can be "connected" to your checkout system.
Self'Pay is supervised to provide retailers with technical, maintenance, usage and transaction data. Ultra-compact and user-friendly, it is easy to fill and empty at the end of the day!

Last posts

Discover Self'Pay
See

on our partner e-Liberty's stand!
See