EK 1000-CVM interactive kiosk
Touchscreen card kiosks
An easy-to-use kiosk for distributing your services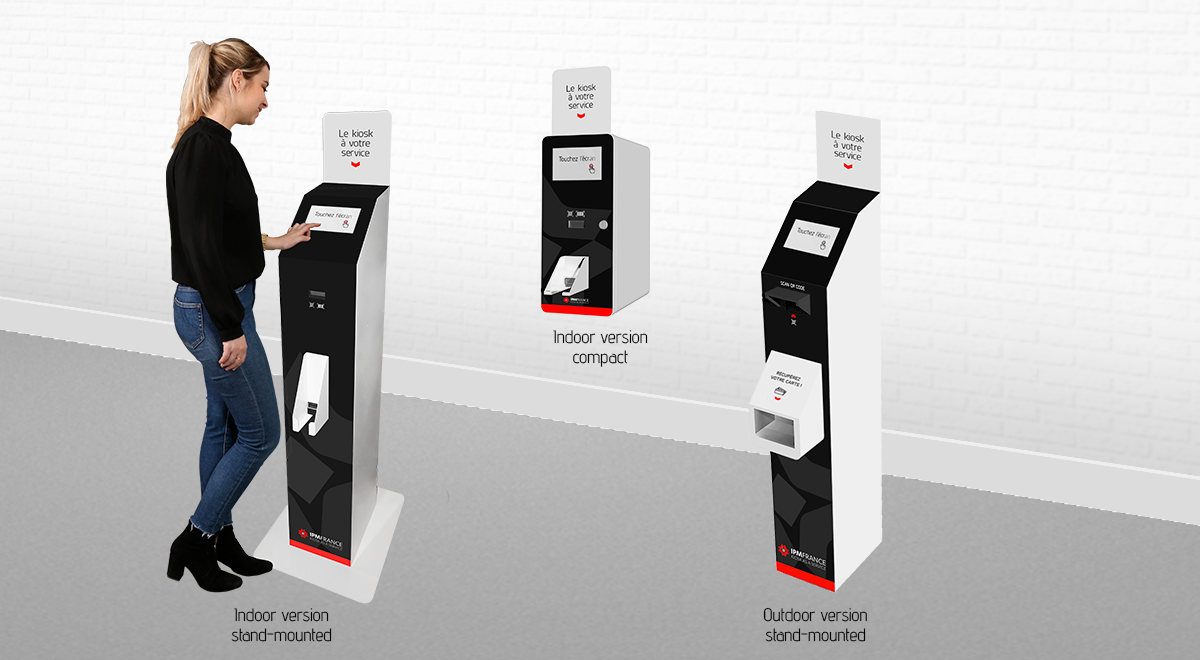 Streamline your queues and automate simple services!
Customers can pick up online orders and purchases at point of sale with IPM France's EK 1000-CVM interactive kiosk. 
Users pay for their order online, then, to quickly collect their keycards, simply scan their order confirmation QR code at the EK 1000-CVM touchscreen card kiosk. This is available as an indoor (stand-mounted or compact) or outdoor (stand-mounted) version. This solution meets the growing demand for click and collect services for online orders. This touchscreen card kiosk is very compact and lightweight. It's easy to install and move around in points of sale. The kiosk has a capacity of 500 keycards. The front of the terminal is fully customisable.
IPM France's touchscreen kiosks are accessible to all, including mobility-impaired users.
An easy-to-use kiosk for distributing your services
Kiosk features and options
7″ screen – Projected capacitive (PCAP) touchscreen
RFID plastic card/pass dispenser
1D/2D barcode reader
Technical specifications
Windows 10 IoT
Accessible for mobility-impaired users
Examples of services
Reception and guidance
Order/purchase collection for cards and passes
Customer loyalty
Earnings
Self-access and continuous services
Autonomy and customer satisfaction
Streamlining queues
Attractive service and innovative image